For businesses that rely heavily on printed documents, having reliable copier solutions in the workplace can be essential. However, it may not be cost-effective to purchase your own printing and copier solutions if you're using them only infrequently.
That's why many businesses choose to lease the equipment they need from an outside source – this way, they can keep their costs down while still ensuring they have access to high-quality equipment when they need it. When you lease printing and copier solutions equipment from companies like ClearView, you can expect great service in addition to these other benefits as well.
What's a Shared Workspace?
A shared workspace is a space where businesses or individuals can rent office space on a short-term basis to accommodate their business needs. It's like a business hotel, except without all of that extra stuff like laundry facilities, dining areas, and pools. While it might seem unconventional, many people these days are choosing shared workspaces over conventional long-term leases.
Shared workspaces like WeWork in Tampa or Hyde House provide a place to work, collaborate with others, host events, business resources, and more. If you're looking to share a workspace with other businesses, there's no better time than now!
What Is Shared Workplace Printing?
With shared workplaces becoming more and more popular with companies like WeWork and Industrious, it's important to understand how printing works in these environments. For example, if you're a member of a co-working space, you might be able to print directly from your laptop or smartphone onto your office printer (as long as you have access).
When printers are opened up to more people, you'll need a printer that can handle multiple users. That's where our shared workplace printing solutions come in. From networked multifunction printers to cloud-based print management services, we have everything you need.
We also offer copier solutions that can be used by multiple employees at once—ideal for busy offices where collaboration is key.
Printing services are often overlooked by people. However, it has a crucial role in any business. The last thing you'd want to have happen is an important resource, like a copier, breaking down and frustrating everyone. Consider copier leasing to ensure you're always providing top-quality printers to your people.
Benefits of Shared Workplace Printers
There are a number of benefits of shared workplace printers, including cost savings. A single large-volume printer can be used by a number of users, rather than each company in the space having to purchase their printer.
This can lead to significant cost savings overall. The availability of a shared workplace printer also makes it easy for employees to print materials when needed.
With a shared printer, you can print from anywhere in your workspace, even if you're not at your desk. All you need is an internet connection, as most printers come with built-in Wi-Fi or Ethernet connectivity. You can print documents or photos directly from your smartphone or tablet as well.
This makes it easy to print important information on the go without having to go back to your office or cubicle. Other benefits of workplace printing include time savings and convenience.
Tips For Choosing Your Office Printer/Copier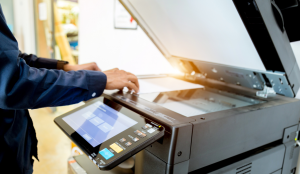 When picking a printer for a shared workspace, think about your end users first. What would be most convenient for them? Do they need color printing capabilities? If so, you'll want to make sure you purchase a machine with those features. Do they need scanning capabilities as well? If so, again, it's best to get one that has that capability built in.
The biggest thing to keep in mind when choosing a printer/copier is that it's going to be used by other people in addition to yourself, so make sure everyone's needs are taken into account before making any final decisions on what kind of machine will work best.
People come to shared workspaces for the environment, space, and resources. A popular resource for just about any business is a printer. Failing to provide a reliable printer could mean losing clients or at least having unhappy clients.
So it's important to choose a machine that can meet your needs as well as your end users' needs. The most important thing you need to do before purchasing a new printer/copier is understand how much work it will be able to handle and what kind of quality you can expect from it.
Consider your workspace's demand. If you anticipate a growing environment, you may need printers that can handle more or even more printers completely. The best way to be ready to adapt without breaking the bank is by leasing printers. Leasing printers allows a fixed monthly cost for a short period instead of spending thousands of dollars upfront for a printer that may not be the right fit.
Save on Printer Costs
Avoid wasting money on printers you know can't handle the demand of your shared workspace. Consider copier solutions leasing companies to avoid large upfront costs and ensure they're being properly maintained.
You may even be able to save on toner replacements and supplies, as well as paper. With a lease, you'll get a better printer that will help your workspace run more efficiently.
Saving money businesses typically spend on printers allows you to reallocate that money to support other areas like office decorating, social events, training, or even employee bonuses.
You'll be able to attract better talent by showing your employees how much you care about them.
Leasing also helps with cash flow management because leasing payments are often made monthly as opposed to a large lump sum payment upfront. This means more cash in your business's pocket each month.
Don't throw away money on a printer that's too large or requires expensive upgrades. Work with a copier leasing company to find a printer that will be most beneficial for your shared workspace.
You can even lease printers with warranty options, which means you won't have to worry about costly repairs in case something goes wrong. You won't have to worry about spending time finding qualified technicians either because leasing companies will take care of all maintenance and repair services if anything goes wrong.