Cybersecurity for managed print services isn't something that occurs to most people and businesses. Cybersecurity itself may just appear to be an industry buzzword to some people. However, securing our networked devices is an essential practice that could make the difference between business survival, and an existential threat. Whether it's your reputation with customers, the risk of financial loss, or maintaining regulatory compliance, it's more important than ever to address all potential cyber threats.
While security breaches can come in the form of stolen or lost paper documents, it's often the network issues associated with printing that give rise to the biggest threats. So, how should businesses address these issues?
One of the top ways of boosting cybersecurity in the document production and management chain is through managed print services. In this article, we'll take a look at some of the ways that managed print services can prevent security breaches, non-compliance with regulations, ransomware attacks, and more.
What are Managed Print Services?
Even small businesses produce large amounts of documents. They may have printers and copiers at dozens of locations throughout a business. Managing the equipment and workflows can become a huge headache.
Clearview Business Solutions provides managed print services. This means we can optimize document workflows, maintain equipment, and, most importantly, securely control content. When companies work with us, they are getting the resources of experts in the field of printing and maintaining security throughout the entire chain.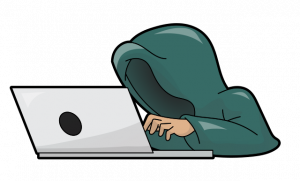 Free Clip Art, CC BY-SA 4.0, via Wikimedia Commons
What are the Cybersecurity Risks in Printing?
It's often quite surprising to learn that one of the most seemingly mundane pieces of office equipment can actually be the source of so many security risks. Here are a few of the ways that printers and printing networks can be a threat:
Risk of Document Loss
One of the chief ways that printers present a security risk is also quite low-tech. Simply put, if confidential or sensitive documents are printed in visible areas to non-authorized individuals, your business could be at risk.
Just think of some of the reports and memorandum you might be printing:
Human resources information
Company financials
Trade secrets
Plans for future development
Protected Health Information subject to HIPAA regulations
Information like this should only be seen by authorized individuals. It's vital that your network be set up so that documents print in locations that are more secure. Identifying these locations and helping to make recommendations for both physical and network security are part of the managed print services umbrella.
Risk to Data in Transit
While you may have made a substantial investment in hardening servers and building firewalls, it's all too easy to ignore the risk to data as it travels to and from printers, copiers, and scanners. Ensuring that data is protected while it's in transit is one of the most important tasks of a managed print services company.
Multi-Function Printers:
Multifunction printers are an especially vulnerable link in the printing chain. While these office machines are highly capable, they do give rise to several threats, such as:
Vulnerability as an attack point: DDoS attacks, for example
Vulnerability of sensitive data in the printer memory: could be accessed by anyone
Malicious print jobs: nefarious individuals could deliberately print harmful, inappropriate, or incorrect information.
How Can Managed Print Services Help with These Threats?
Managed print services, like the ones that Clearview Business Solutions provides, give you company access to print security specialists. It's difficult for businesses to tackle these issues on their own for several reasons:
Lack of expertise in networking
Lack of knowledge of the extensive amount of risks to printers and printing data
Lack of understanding of proper printer, copier, and scanner configuration settings that could impact security
Managed print services can address all of these integrated threats. But, the advantages don't stop there. Here are just a few of the other reasons that managed print services are essential for boosting cyber security:
Ease of Use
While completely locking down a printer network both electronically and physically might seem tempting, the reality isn't quite as simple. If security threats aren't addressed in a way that still allows for easy use of the system, your business will be at a huge disadvantage.
Managed print services can reduce threats but still make printing easy and seamless for all businesses.
Regulatory Compliance
Businesses can be subject to several different types of compliance requirements. Any business that deals with protected health information, for instance, is subject to regulations of the Health Insurance Portability and Accountability Act (HIPAA). There are other regulations that are specific to other industries.
Managed Print Services understand physical and electronic requirements to maintain compliance with all of the regulations and standards. Remember that standards change. It can be quite difficult for businesses to keep up with those changes. That's a huge advantage to managed print services: they are on top of any changes and can keep your business in compliance.
Scalable and Secure Managed Print Services Solutions
One size fits all solutions don't work in the modern business landscape. As your business needs change, your printer security needs to change as well. Managed print services can provide solutions that grow along with your business. They aren't overly cumbersome when the size of your network is small, and you won't outgrow them as the network becomes larger.
Managed Print Services Prevent Existential Threats
It really can't be understated: cybersecurity presents a risk to the very survival of your company or organization. Just take a look at the news of the past several years. You'll see companies in legal, medical, and financial companies that have fallen victim to ransomware attacks.
Their data has been held hostage for weeks or months, released only upon paying a hefty ransom. There's often little law enforcement can do to solve these attacks once they have taken place.
The damage to company reputations is often too hard to overcome. Customers and clients simply have a very hard time placing their trust in any financial advisor or medical practice that allows their data to be viewed or stolen by hackers.
Good cybersecurity is too important to ignore. It's also often too complex of a task for IT professionals who aren't specialized in printing networks. Managed print services are a great investment that will pay off in better workflows and higher security.